Eliet News
Maestro Ego E-Power: 1st battery-powered shredder for domestic use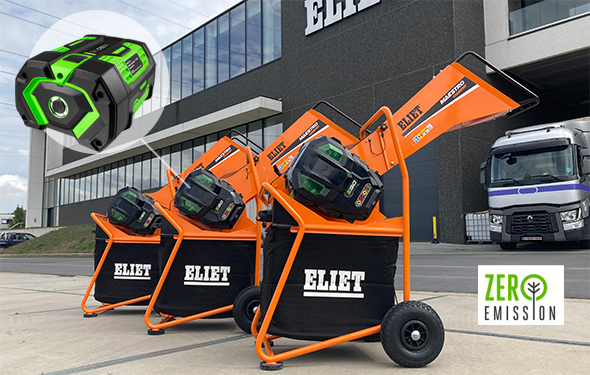 Discover the 1st battery-powered shredder for domestic use!

With the Maestro Country E-Power, managing your garden waste has never been easier.
The shredder can be supplied with a Li-ion Battery 56V-5Ah or 56V-10Ah that will allow you to shred branches up to 4cm (1 ¾ ") thick. Just click in the battery and you?re ready to go!
Some other advantages:
zero emissions
no storage of dangerous gas cans
very low maintenance (cost & time)
The Maestro E-Power does everything a petrol shredder does, but quieter. Good for the environment & user friendly!
Patented shredding system
Thanks to its unique shredding system, the Chopping Principle™, the Eliet Maestro can deal with not only branches but also leafy and wet green waste. The green waste is cut into small chips that are collected in a large 80-litre collection bag. This chips have quick-composting properties and are perfect to use in gardens between borders.
Technical data:
Shreddable timber : diameter 1 ¾"
Chopping speed (cuts/min) : 36,000 cuts/min
Capacity up to 15 wheelbarrows/hour
Blades type : 12 RESIST™ blades
Collecting bag : 22 gallons
Infeed height : 48" 4ft
Seize (LxBxH) : 30 x 26 x 42"
Power : 56V
Certification : IPX5
Battery : 2 PU2700_Dual Ports
Adjustable speed : Eco/Turbo
Battery indicator : LED
Power :3.03kW at 3200rpm
Accessories: wet-greenwaste screen/ charger for Li-on battery/ battery 5/10/12 Ah
Want to see more? Watch the video of the Maestro E-Power on youtube of request a demo